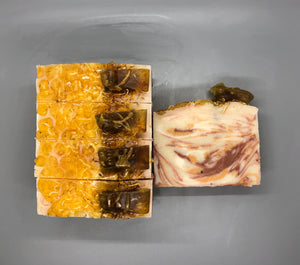 Raw Honey
Fragrance: Bold rich honey with a delicate drop swirl of creamy white, pollen yellow and muted copper brown in a base of creamy beige. Topping it off with a honey comb design, a dollop of creamy white and a queen bee in calendula petal and clear soap base.
Ingredients: Olive Oil, Organic Coconut Oil, Distilled Water, Organic sustainably harvested Palm Oil, Sodium Hydroxide Lye, Shea Butter, Castor Oil, Sweet Almond Oil, Fragrance Oil, Mica Colorants and Kaolin Clay. Bee imbed is made of clear soap base infused with organic home grown Calendula petals. 
Weight 7-8 oz. All soaps are hand cut and weight may vary.