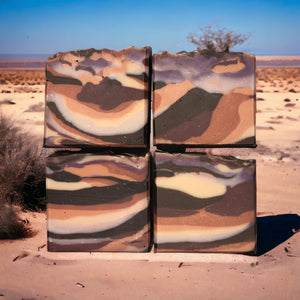 Fragrance 
Earthy woods, lush green flora and a touch of jasmine, basil and citrus. The scent of the wind as you hike through deep forest trails in the autumn. 

Ingredients
Olive Oil, Organic Coconut Oil, Distilled Water, Organic Sustainably Harvested Palm Oil, Sodium Hydroxide Lye, Shea Butter, Castor Oil, Sweet Almond Oil, Fragrance and Essential Oil, Kaolin Clay, Mica Colorants.
Weight 6-7 oz.
All soaps are hand cut and weight may vary.