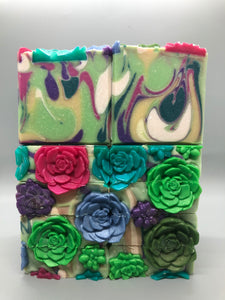 Fragrance & Description: Inspired by the beautiful colors of succulent plants! This fragrance goes beyond my expectation with a mesmerizing blend of fresh green plants and fruit. It's blended with notes of Sea Moss, Melon, Agave, Passionflower, Açaí, Aloe, Amber, Green Grass and Coconut Bark. It is truly a new favorite and permanent House Special. 
    The base is swirled with all the colors you would find in a succulent arrangement including greens, purples, blues and grays. Lightly topped with succulent inspired soap piping. 
Ingredients: Olive oil, Organic Coconut oil, Distilled Water, Organic sustainably harvested Palm oil, Sodium Hydroxide Lye, Shea butter, Castor oil, Organic Canola oil, Sweet Almond oil, Fragrance oils, Kaolin Clay, Mica colorants, Tussah Silk. 
Weight: 6-7 oz. All soaps are hand cut and weight may vary