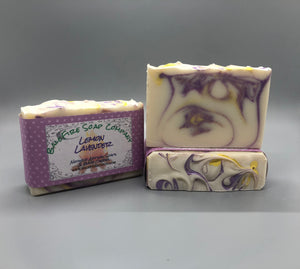 Lemon Lavender 
Scent: Earthy and sweet Lavender blended with a pungent bold lemon. It is one of my most vivid scents. 


Design: A simple bar with a thin scalloped lemon yellow base and a body of mellow purple then spoon textured on top. 
Ingredients: Olive Oil, Organic Coconut Oil, Distilled Water, Organic sustainably harvested Palm Oil, Sodium Hydroxide Lye, Shea Butter, Castor Oil, Sweet Almond Oil, Fragrance & Essential Oil, Mica Colorants, Kaolin Clay and Tussah Silk. 
Weight: 5-6 oz. 
All soaps are hand cut and weight may vary.