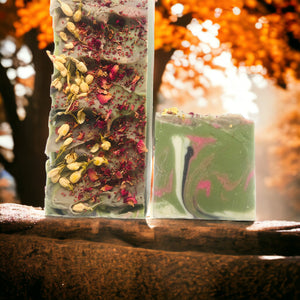 Colonial Garden Bayberry
Fragrance: A scent that transports you to another time. If you love earthy and herbal scents I urge you to try this one. It is classic bayberry! A favorite that can be celebrated in any season. 
Ingredients: Olive Oil, Organic Coconut Oil, Distilled Water, Organic sustainably harvested Palm Oil, Sodium Hydroxide Lye, Shea Butter, Castor Oil, Sweet Almond Oil, Fragrance & Essential Oils,Kaolin Clay and Mica Colorants. 
Weight: 5-6oz. 
All soaps are hand cut and weight may vary.