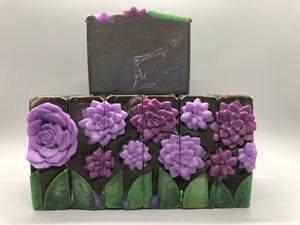 Fragrance 
Lavender is one of my favorite essential oils to smell and use. It has a quality that blends so well with a variety of other  scents. Mixing it with Amber transforms to a fragrance that is dark, earthy and warm. It combines lavender, amber, tonka bean, vanilla, black myrrh, Egyptian musk and clary Sage. Sultry and warm! It is one of my most popular bars. I hope you will love it as much as I do. 


Ingredients
Olive Oil, Organic Coconut Oil, Distilled Water, Sustainably Harvested Palm Oil, Sodium Hydroxide Lye, Shea Butter, Organic Castor Oil, Sweet Almond Oil, Fragrance and Essential Oil, Kaolin Clay, Mica Colorants. 


Weight: 5-6 oz. 
All soaps are hand cut and weight may vary.