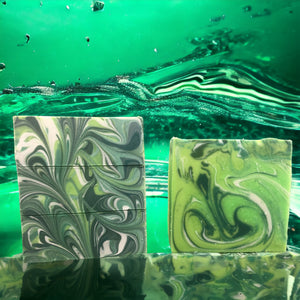 Fragrance: This ones just perfect! A vibrant scent of juicy limes and margarita mixer. A House favorite that will sure to lift your spirits and mood.
Ingredients: olive oil, distilled water, Organic coconut oil, Organic sustainably harvested palm oil,  Shea butter, sodium hydroxide lye, Organic canola oil, almond oil, castor oil, fragrance oil & essiential oil, Mica colorants. Kaolin clay and Tussah Silk. 


 Weight: 5-6oz.  All soaps are hand cut and weight may vary.